Hi-rib
Roofing System
Kamdhenu Hi-rib Roofing Profile is manufactured from Pre-painted Galvanized steel (PPGI)/ AI-Zn Alloy coated steel (Bare Galvalume) and Color Coated AI-Zn Alloy coated steel (Color Coated Galvalume) with a cover width of 1010mm, overall width of 1050mm, pitch of 200mm and a crest height of 30mm, with two stiffening ribs in between. Kamdhenu Hi-rib Roofing can be fixed on both roof, wall cladding, any slope and height as per the designers choice.


KAMDHENU HI-RIB PROFILE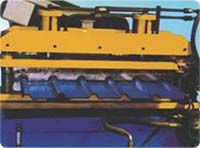 KAMDHENU HI-RIB
SPECIFICATION



SELECT FROM SPECTRUM OF COLOURS Discover the world of colours with Kamdhenu pre painted products. Our versatile colour metal products make your dream building look stylish and elegant. We offer wide variety of colours for your selection which comply with international RAL system, the international standard for the standard colours used in architecture, construction, industry and road safety.